There is a little trail that is less than a quarter of a mile from my house. The Charlie Major Nature Trail is only three-quarters of a mile long and runs along Skaneateles Creek on the old railroad bed.
It is a historic place with the ruins of many factories that used the power of Skaneateles Creek to run their equipment.  There are four bridges and at least three old dams that formed mill ponds that were used for running water powered equipment.
The interesting part to me is how much wildlife can be seen along the trail.  Last year I had an encounter with a coyote, the first time I had ever seen one up close and personal.
This past week I saw a raccoon on the side of the trail. Since raccoons are primarily nocturnal (move around at night) and I had never seen one during the day it made me suspicious. I warned a couple of people that were walking that way including one woman walking her dog. I saw her later as she had encountered the raccoon walking down the middle of the trail. She turned around and came back which was a prudent move on her part.
 Raccoons with rabies are widespread according to the NY State DEC.
https://www.dec.ny.gov/animals/9358.html
Stay away from raccoons you see during the day. Rabies is not to be messed with.
Yesterday I saw a Great Blue Heron feeding along the bank of the creek. I think I see this dude fairly regularly and he/she seems to have become comfortable with me. This is the second sighting this week and both times I was fairly close, within twenty-five feet. These birds are fairly skittish and flighty (pun intended) so getting that close is always a bit of thrill for me!
I also spotted a team of mallards feeding just above one of the dams in the only remaining mill pond. Once again I was allowed to get pretty close and they did paddle away a few feet but didn't take flight.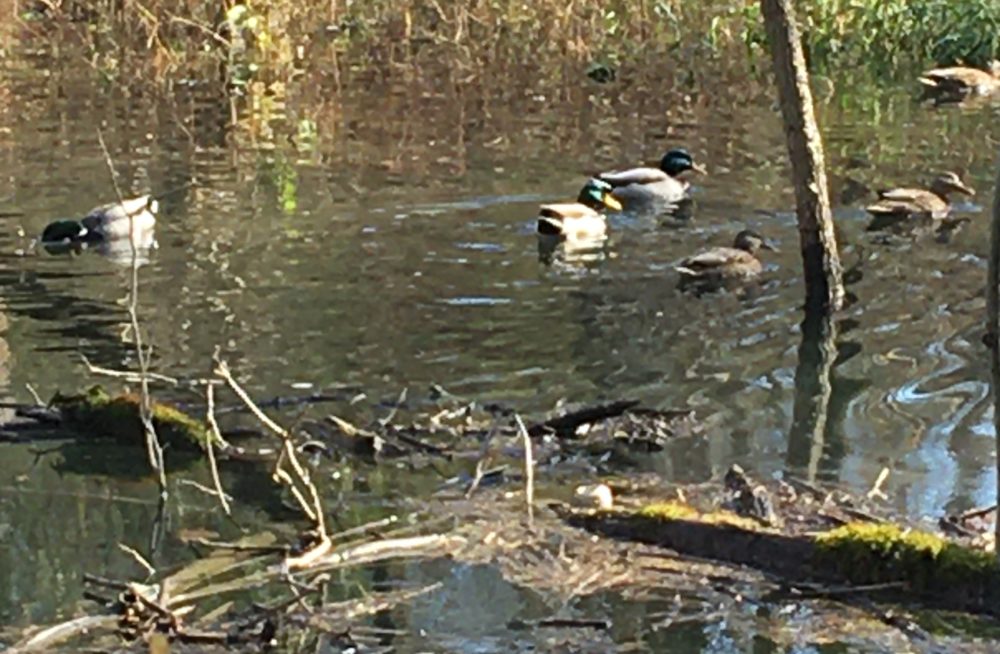 Do yourself a favor and take regular walks on your local nature trail. Go camping. Get outside. Reconnecting with nature is a great way to de-stress and take your mind off life's issues if but for a short period of time. There is something soothing being out in nature that is good for the soul. Make it a part of your daily routine. You will be glad you did.