Today was a long ride day with Marius, James, Lee and especially with B.rad. Brad gives me good ideas for writing at times. His topic for today is passion.
I bought my first road bike in my mid-twenties. It was a Peugot all steel very much like the one pictured below. It had the shifters down on the frame and white handlebar tape that was nearly impossible to keep clean. But it looked cool so I like it. I remember it well, the times hanging out at the local bike shop, all those miles and especially the road race where I overlapped my front wheel. The guy in front of me swerved and over my front handle bars I went. I was fortunate to only have a twisted front wheel and a couple of scrapes but no serious injury.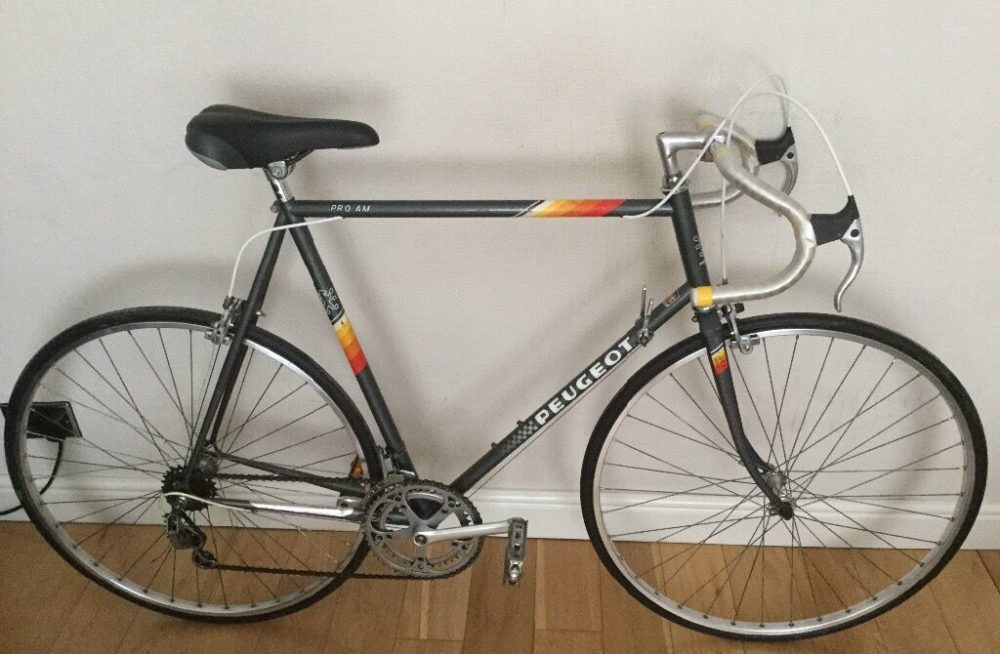 I loved that bike but marriage came along so I sold it to help pay off debt. I also sold off my Ranger 4×4 extended cab pickup. Both were big mistakes. When you get married or get into a relationship keep your hobbies.
For the next twenty years I raised kids, worked, almost went bankrupt and made a lot of money. One day in my mid-forties it was time. I bought an entry level Jamis road bike with an aluminum frame with carbon forks and seat stay. I'm sure you know the type of bike I'm talking about.
With the new bike my passion for cycling was re-ignited. I was still riding in touring shoes and rat-traps but that didn't last long. I took the plunge and got cleats. I fell getting out of the cleats the obligatory three to four times. My entry into cycling, road biking and club rides were complete. I competed in many races over the years as well. At one point I was riding over 200 miles per week. Those were the days.
Time it seems has passed quickly and my passion for riding outside has waned over the years. Faced with group rides with guys that weigh as much as 50% less than I do has made getting dropped on hills a fact of life. Riding OK is fun sometimes but when I ride ten miles to ride on a group ride I would like to ride with the group!
Zwift has been the answer. Doing HERD rides has re-ignited my passion for cycling coupled with entertainment, a sense of purpose (sweeping) and good comradery (gee that's a big word I hoped I spelled it right!). It is kind of ironic that I was losing my fitness by riding outside this past year. I had to get back on the trainer to get my weight down and my fitness back!
Find your passion. Pursue it. Don't let it go. Having passion for things and especially for people really matters. Sounds like a topic for another time.